AN EVENING WITH MARY GAUTHIER & JAIMEE HARRIS


SEPTEMBER 16, 2023
7:30 PM

tickets available now!

The Edwards Opera House is very excited to welcome Grammy nominated folk singer, songwriter, and author, Mary Gauthier, and "the Next Queen of Americana" (NPR), Jaimee Harris, to the Edwards Opera House stage on Saturday, September 16, 2023! 
Mary will also be giving a presentation at the Edwards Hepburn Library earlier in the afternoon. Tickets, bundles, and information will be available beginning Friday at 10 am - you won't want to miss this show!

Click the image to the left to find out more!
THE EDWARDS OPERA HOUSE 2023 SEASON
We're back! The Edwards Arts Council is pleased to announce the summer Concert Series with varied musical offerings: from Atkinson Family bluegrass to blues singer Gwen Tracy, Paul Meyers's World on a String Brazilian jazz trio, Phil Hurley's Americana band and another emergent, groove-infused Americana band generating buzz in the Bristol Roots scene, Florencia & the Feeling. We end out the season with Celtic Confusion, featuring Aoife Clancy and Bill Elliot. 
In addition to the concert series, we'll be adding a comedy night and the North Country Arts Festival concert in September, dates to be announced soon so check out our website edwardsoperahouse.com for updates. All shows start at 7 pm and are $10 unless otherwise noted.
More information can be found on the Shows page. Hope to see you this summer!
THE 2022 SEASON 
The Edwards Opera House came back swinging in 2022 with our first ever Singer-Songwriter Series, live-streaming, a return to in-person shows during the Summer Concert Series, our first Family Comedy Night, and hosted Dar Williams in September. Click on the button to the left to find out more about the season and artists that joined our stage!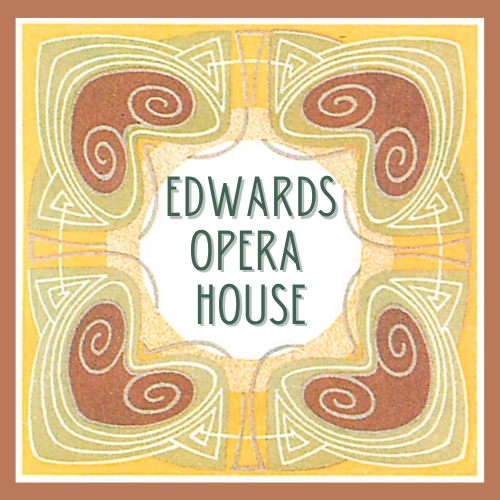 Help us keep the arts alive in this historic building!
The Edwards Opera House has stood for over 130 years. We are dedicated to its continued beauty and longevity while also keeping the arts alive. Help us continue this work for decades to come. Donate $5 or more here - all donations are tax-deductible. Donations will be split between attracting quality artists and to maintain the opera house.
Enter the amount you wish to donate